A high-impact science center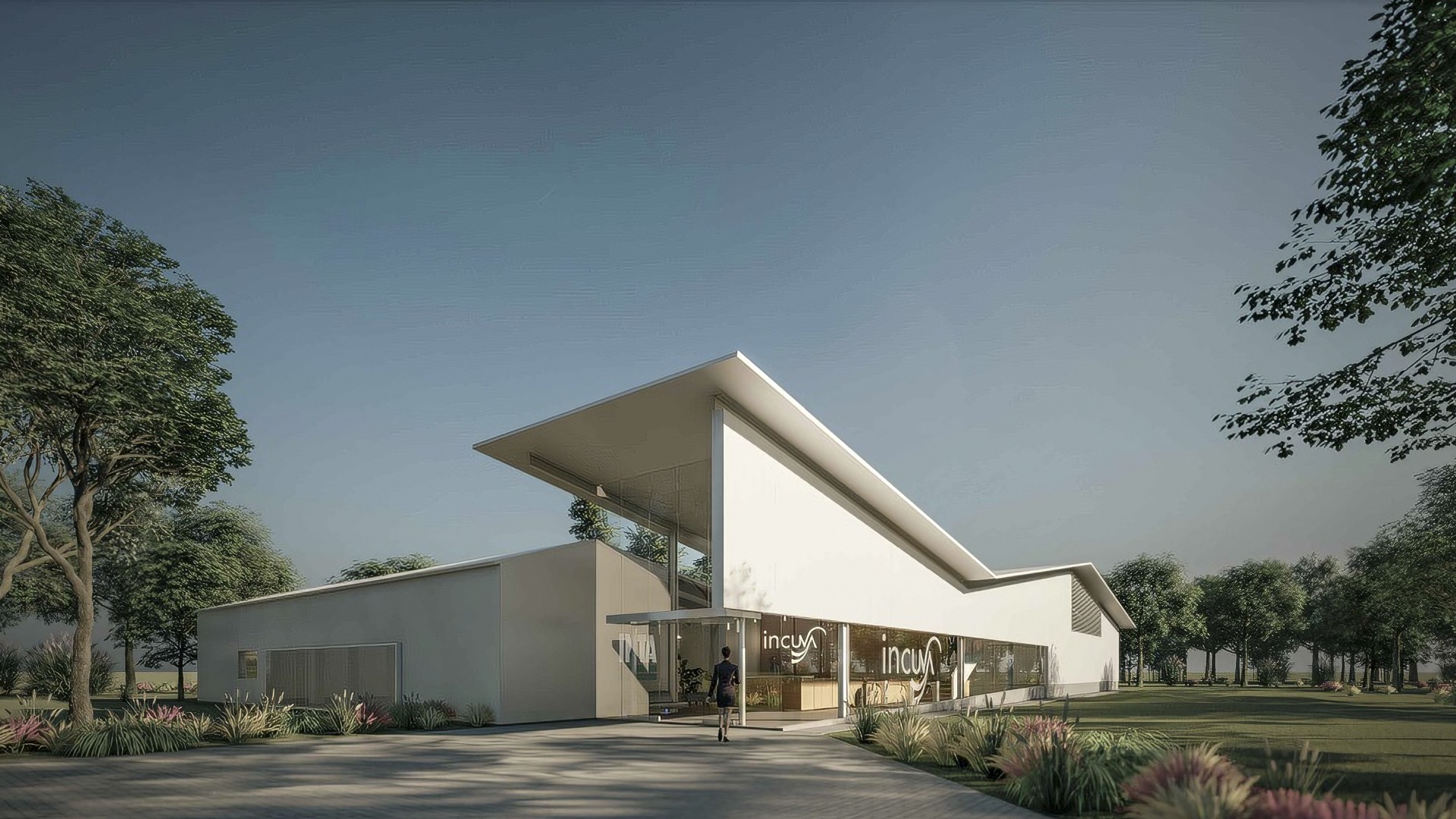 Everything the life science ecosystem needs to keep growing.
We invest and develop infrastructure to create transformative work environments.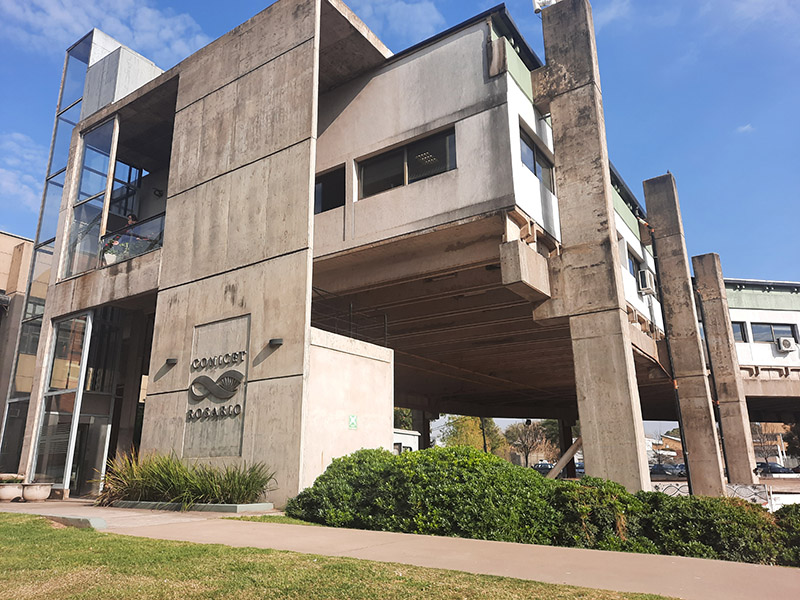 CONICET Rosario Scientific and Technological Centre
In the heart of science, an architectural work of xxm2 is presented, a biotechnological pole with a global reach and connected to the community. The site meets three basic conditions to create value through the generation of high-impact companies such as (i) high-level basic science in the more than a thousand people working in the thirteen CONICET institutes (IBR, CEFOBI, IFISE, IQUIR, etc.), (ii) incubation spaces for the development of technology-based companies (bio.R, Creators Lab) and (iii) access to venture capital for the generation of new companies (SF500).
Institute of Molecular and Cellular Biology of Rosario
It occupies a 4-story building (3,600 m2) with two annexes, one for plant growth chambers and another for nuclear magnetic resonance. 10 general-use laboratories, 2 microscopy rooms, 3 cell culture rooms, a radioisotope room, a fish culture room, a crystal growth room, an instrumentation room, 4 cold rooms and 2 temperature-controlled rooms, dark rooms, drug store, electronics workshop and equipment maintenance, 6 plant culture chambers and a nuclear magnetic resonance annex. 36 offices for researchers, 12 cubicles for fellows and technical staff, 3 seminar rooms and a meeting room, dining hall, material washing and sterilization room, computer rooms, administrative offices and storage facilities.
Institute of Biotechnological and Chemical Processes
Biotechnology is applied to food and agro-industrial processes. It has 1,400 m2, which allows for housing the 50 members (500 m2), a teaching space to receive students (200 m2), and 700 m2 to accommodate another 70 people. It consists of 18 researchers, 16 fellows, 4 support staff and 1 administrative staff. It has large equipment Large-scale, fermenters, chambers, extraction hoods, a multipurpose room and a dining room.
It includes biotechnology projects and companies that require a development phase in an academic environment, to create a working network between the public and private sectors. The facility has a covered area of 3,000 m2 distributed over 4 stories, a 70 m2 double-height semi-covered hall, access to the basement through a ramp and a 130 m2 open-air courtyard with management offices, research and development centers, and office space. 2,000 m2 will be used for new laboratories of biochemistry, molecular biology and food technologies, and 500 m2 for a platform of Biosafety Greenhouses for vegetable crops.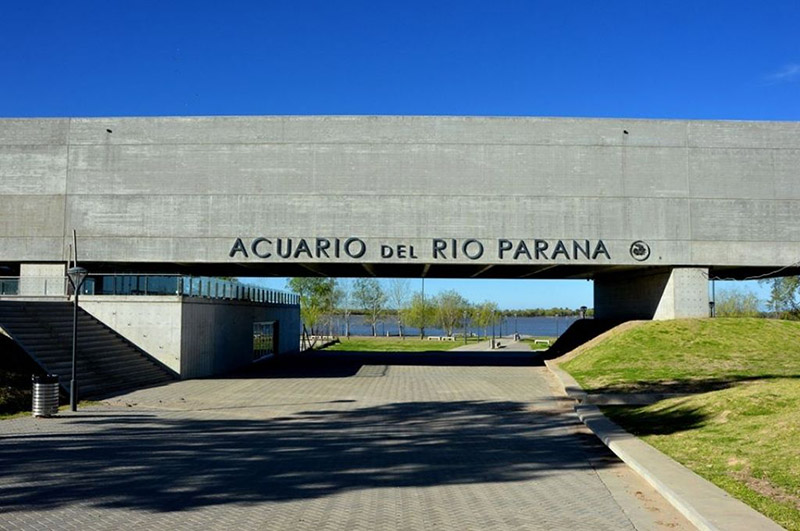 Scientific, Technological and Educational Center - Paraná River Aquarium
It has a Mixed Aquatic Biotechnology laboratory dedicated to studies of fish from the Paraná River and its ecosystem, mainly in fish genetics and genomics. It is subdivided into a 127m2 Molecular Biology Laboratory and a 180m2 Aquaculture Laboratory. It includes the molecular biology area, the computer work room, the equipment room and the aquaculture area, three small rooms, one for microscopy, one for microorganism culture, a storage room and a coworking space.
Zone I is a productive technology complex within the Rosario Technology Park that seeks to open up possibilities for the innovative transformation of the region. This initiative promotes collaborative innovation dynamics for the production of technologies, scientific and educational activities, partnering technology-based companies, entrepreneurs and knowledge institutions, providing opportunities to improve regional competitiveness. There are two warehouses of approximately 4,800 m2 each, in which some 30 companies are located.
A space for scientific startups that seeks the development of the region through its contribution to the generation, incubation and development of technology-based companies. We can find a strong focus on biotechnology, nanotechnology, ICTs, engineering, and technological services among the companies. The PTLC consists of 10 exclusive use spaces of 30m2 each and generates 420 jobs.
R&D Center for medical cannabis, aquaculture and agroecology
The center is available as a source of raw material to provide, exchange, and transfer mechanisms and production processes, seeking to strengthen the production network, scientific research, and the generation of evidence and knowledge exchange among the various actors involved in the crop. It currently has 200 cannabis plants and aims to be equipped with a social area of 90 m2, a 220 m2 seedbed, an external auditorium, a pedestrian area, and furniture.
Litoral Centro Technology Park
Building and service infrastructure made available to entrepreneurs and businessmen to promote and foster technological innovation.
Pre-incubation area: modules with office furniture, high-tech equipment available to the entrepreneur, and a multimedia meeting room. Business Incubator area: equipped with 5 laboratories, 3 cabinets, and 8 offices. There is also a meeting room with state-of-the-art multimedia technology available for entrepreneurs.
Pre-established business area: Modular structures where entrepreneurs can build the facilities (offices, laboratories, locker rooms).
And it has a business condominium, with offices specially equipped for ICT enterprises. Shared services.
Center for Technological, Entrepreneurial and Social Innovation
Venture Builder supporting the development of scientific and technological startups. CITES supports companies in its portfolio by providing office space, with fully equipped laboratories, team building and training resources, hands-on technology expertise, IP guidance and product development, and information for business strategy, networking and fundraising processes. They have 2,200 square meters for incubation and establishment, with a Fab-lab, a wet-lab and spin-off laboratories, in addition to coworking spaces and private offices in Sunchales, CABA and Bariloche.
Promotes and accompanies R&D&I activities, networking initiatives and technology transfer. With 9 laboratories in operation, it consists of two floors, with a total area of 859 m2 covered and 113 m2 semi-covered. 30 research professors, 15 fellows, $16,945,335 funds raised by R&D +90 Projects, agreements and services developed, 26 partner companies and 17 public institutions participating in projects. It focuses on the development of prototypes, studies and research in the areas of environment, circular economy, digital transformation, food, design, electro mobility, renewable energy and management and development.
New Building, includes a Coworking space and a Pilot Plant of 800 m2 focused on services and incubation for the scaling of agri-food companies, also allowing the partnership of R&D projects with the productive sector.